Welcome to Very Brambleberry, the home of Tales from Brambleberry Farm, where the magic of storytelling takes flight, and young imaginations soar!
I'm Geneviève, a children's author with a passion for crafting tales that whisk young readers away on extraordinary adventures. My literary journey began with a dream, much like the tiny hero of my first published book, The Adventures of William Brambleberry: Aviator Mouse.
William Brambleberry was a very small mouse with a very big dream, to be the bravest, most adventurous aviator mouse in all the world. Through his friendship with an Australian Spitfire Squadron, and with determination and tireless practice, he learned to fly a Spitfire and did indeed become the bravest, most adventurous aviator mouse in the world.
William's adventures are not just flights of fancy. They draw inspiration from real-life heroes and the events of 453 Squadron, an Australian Spitfire squadron that served valiantly during WWII, including the D-Day Normandy landings. Through William's eyes, young readers can connect with the bravery and resilience of those who once soared through the skies in the name of freedom.
To bring William's world to life, the Aviator Mouse soft toy was created allowing children to hold the spirit of adventure in their own hands, making the story come alive in their playtime.
Our adventures don't end with Aviator Mouse. It's just the beginning of the Tales from Brambleberry Farm series. I'm thrilled to introduce you to the next chapter, The Extraordinary Tale of Nancy: Spy Mouse. This upcoming book promises to transport young readers into a world of thrilling espionage, cunning disguises, and daring missions. It's based on the incredible true story of Nancy Wake, codenamed 'White Mouse,' a WWII hero whose courage knows no bounds.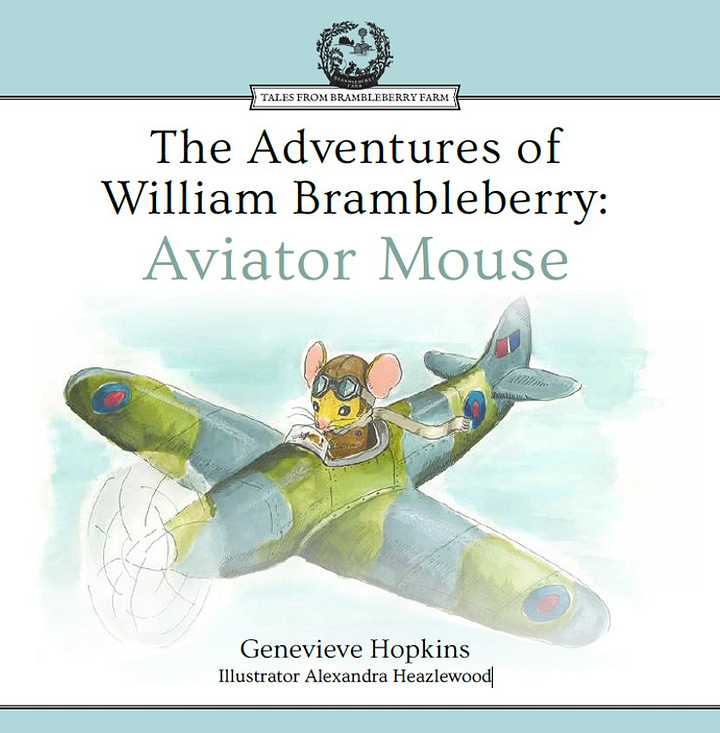 At Very Brambleberry, we're committed to crafting stories that ignite young minds, kindling their curiosity and inspiring them to dream big. We invite you to explore our world of enchanting tales and delightful companions. Whether you're a parent looking to ignite your child's imagination or a book lover seeking the next great adventure, we have something special in store for you. Please subscribe to join our community and stay up-to-date on Very Brambleberry news and events.
Thank you for joining us on this literary adventure. Together, we'll continue to nurture a love for reading, spark the flames of curiosity, and embark on unforgettable journeys through the pages of our books.
Let's soar to new heights together, one story at a time.
Warmest wishes, Geneviève
---
To find out more about the company that provides the tech for this newsletter, visit Substack.com.
Subscribe to Very Brambleberry
People
Geneviève Hopkins
Geneviève is a publisher of Wheel & Cross and a children's book author with a passion for weaving tales of whimsy and enchantment. She is captivated by the interplay of history, culture, traditions, folklore, and cycles of the seasons.