Discover more from Very Brambleberry
Home of 'Tales from Brambleberry Farm,' whimsical stories of brave and adventurous mice
William Brambleberry: Aviator Mouse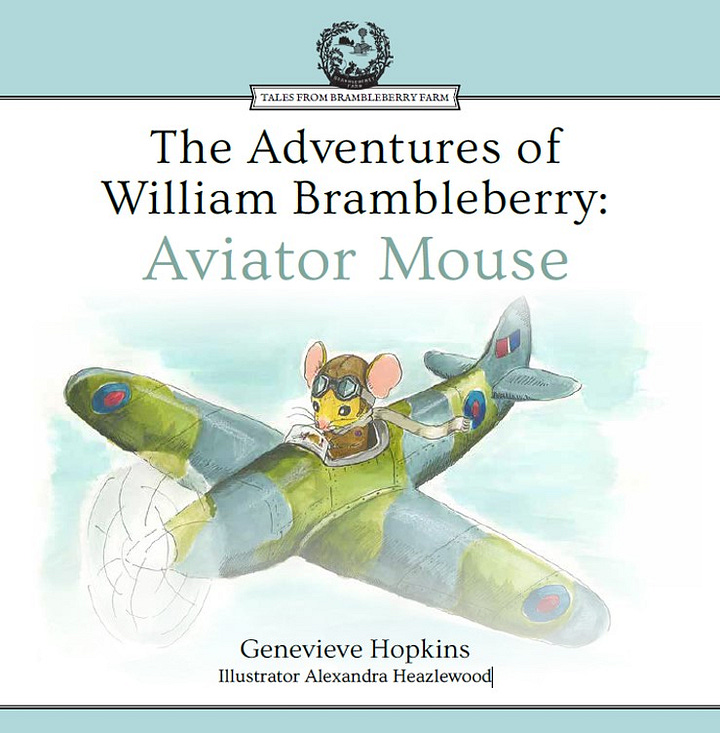 The Adventures of William Brambleberry: Aviator Mouse is a historical-fiction children's picture book. It was first published as a softcover book in 2015 and then through Geneviève's independent publishing imprint Brambleberry Press in its current hardcover form in 2017. Not long after, Geneviève produced the soft toy aviator mouse to accompany the book.
This book is about William Brambleberry, who was a very small mouse with a very big dream. He was determined to fly a Spitfire and he practiced until he really did become the bravest most adventurous aviator mouse in all the world. It is based on 453 Squadron, an Australia Spitfire Squadron stationed in the UK during WWII, which saw distinguished service in the D-Day Normandy landings and over the skies of the UK, France and Germany.
Purchase your own book copy here.
Purchase your own lovable soft toy aviator mouse here.
---
Research Notes
Geneviève did a large amount of research to ensure the accuracy of locations, names and events on which the book is based. She has provided her notes below:
---
Book Reviews from the Military Shop
Heather (6 May 2022) - "A brilliant little book, everyone in our family loves it. The sketches are beautiful and the inclusion of real RAAF pilots and engineer is wonderful. Five golden stars from this RAAF family."
Toy Reviews from the Military Shop
Schroder (15 Jul 2021) - "Cutest pilot in his squad, what a sweetie. Well made, lovable, soft"
Thanks for reading Very Brambleberry! Subscribe for free to receive new posts and support my work.